It is normal and understandable to want to breathe new air and succumb to the charm of new landscapes. If you don't know where to go or which hotel to stay in, you could certainly fall under the spell of the shores of Lake Geneva.
This is the largest expanse of fresh water in Western Europe, which you can see or better by coming to stay for a while at Villa Cécile Yvoire. It's a house, a 4 star hotel that is located a few steps from the marina of Yvoire and is well worth discovering.
Presentation of the Villa Cécile Yvoire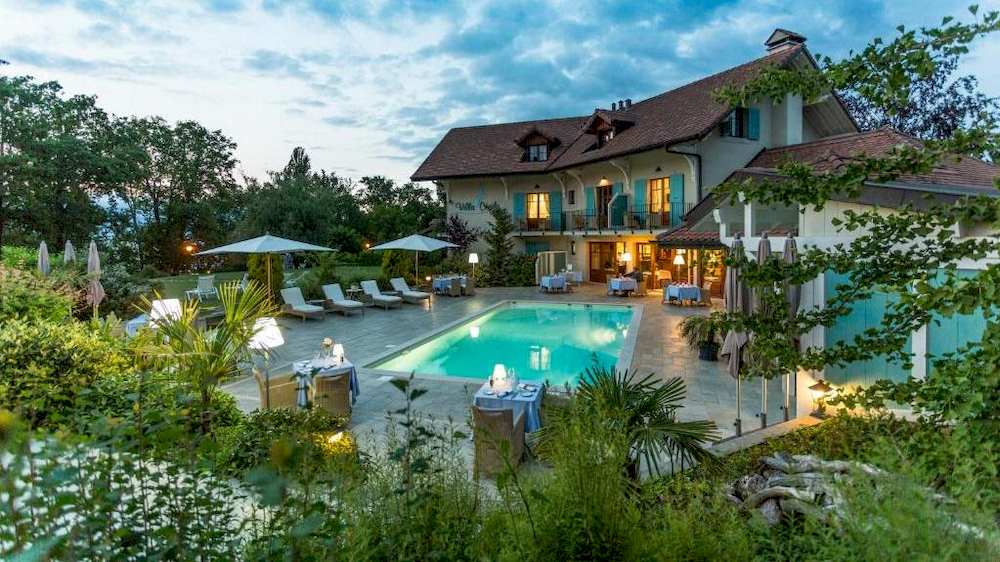 Surrounded by an incredible and sublime flowered garden, the Villa Cécile is classified 4 stars.
It is a friendly hotel on the shores of Lake Geneva that combines elegance, discretion and luxury. It features comfortable and luxurious furnishings. Moreover, it offers services that are suitable for everyone and that could perfectly match your expectations, whether it is for a stay with family, couple, friends or for a business trip (25 minutes from Geneva by car).
It is a haven of peace that offers a magnificent view of the garden and unlimited access to the swimming pool for relaxing moments.
The villa has a balcony and a terrace which guarantee you serenity and unparalleled calm. Your privacy is guaranteed when you decide to stay here. It is quite a restful and truly rejuvenating place.
Why is this hotel rated 4 stars?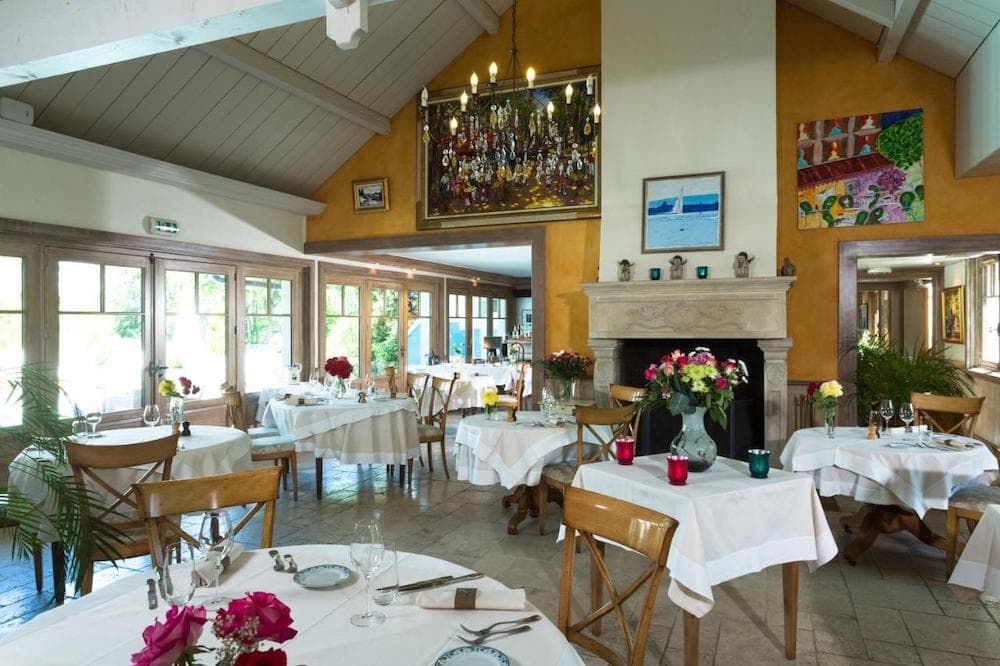 The Villa Cécile Yvoire is a 4-star hotel in terms of the luxury and services it offers within its complex. The opinions and comments of its customers have contributed to its inclusion in this ranking. Indeed, at the Villa Cécile Yvoire, we offer you rooms to your taste, a restaurant service and all the relaxation services according to your preferences.
Each member of this hotel is responsible for providing you with the best of care. You will not feel a single moment of stress inside this establishment, as the staff is very attentive to the customers. On the other hand, the hotel offers you outdoor activities such as cruises, walks in the medieval village or on the lake paths of Yvoire.
Opting for this hotel means saying a big yes to real moments of relaxation. Better still, it is to enjoy moments of relaxation and the magnificent landscape. It is a place entirely dedicated to well-being and beauty, to calm and tranquillity. It is all of these assets that have earned Villa Cécile in Yvoire its 4 stars.
What services does Villa Cécile offer in Yvoire?
At Villa Cécile Yvoire, you will find not only a warm and welcoming atmosphere, but also spaces designed specifically for your relaxation.
The rooms at Villa Cécile hotel
In this establishment, we offer rooms for all types of budget. The hotel offers 20 rooms located on the lake side with a garden. There are also rooms with swimming pools next to them, with or without gardens.
There are rooms with private terraces and rooms suitable for disabled guests. At Villa Cécile d'Yvoire, we make sure to offer the luxury that each guest needs according to their budget.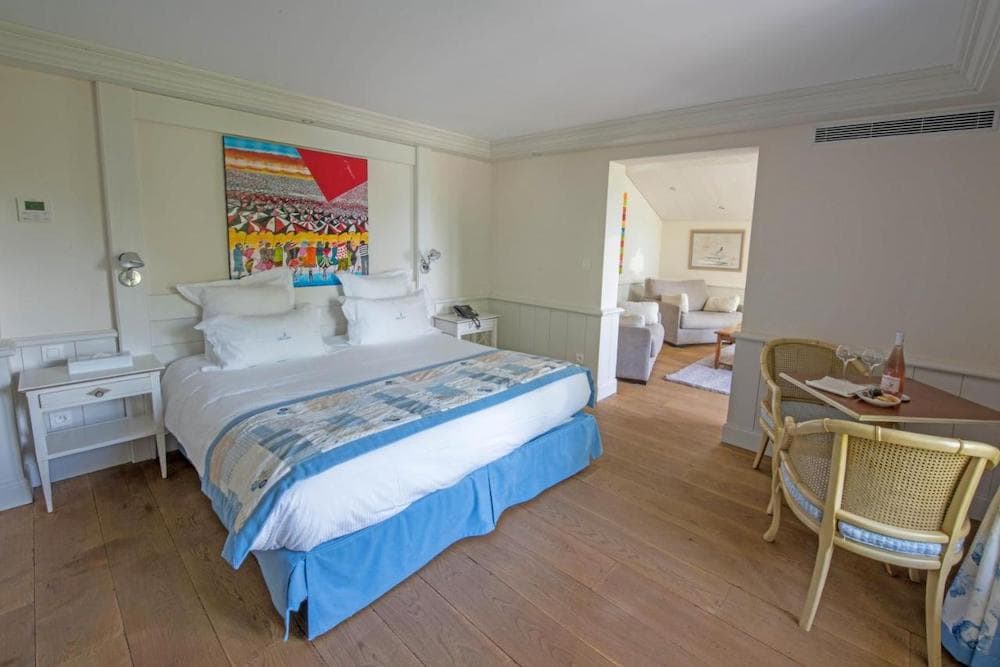 The restaurant
This 4-star hotel also has an excellent restaurant. It serves traditional cuisine with regional, exotic and seasonal flavours. When you dine at the Villa Cécile's restaurant, you decide to enjoy healthy and authentic cuisine.
The dishes are both refined and dietetic to suit your health.
Most of the time, the chef honours the marvellous fish of the lake, it is delicious.
The reception
The reception is at your disposal 24 hours a day and will take care of your various concerns, satisfy your various needs and offer you the best welcome. With the friendly reception of this establishment, you will feel at home and everything will be done in a serene environment.
Finally, the staff speak several languages to welcome you with confidence.
You can be welcomed in Spanish, Portuguese, French and even English.
Other services offered by Villa Cécile
As mentioned before, you can choose the view from your room as some of them have a terrace and a garden. Also, the hotel offers a bar where you can relax and quench your thirst. There is also a SPA with treatment rooms where you can relax in peace and quiet.
You can also enjoy the benefits of the Hammam and Sauna as well as the rest area. Within the establishment, there is also a hairdressing salon with a private cabin where you can go for your hair care without fear. You will be taken care of by very good hairdressers and beauticians.
The villa hotel also has 2 outdoor swimming pools, air conditioning in the rooms, lifts, safe, luggage storage, room service, laundry and everything else you need to feel at home.
Parking is free and secure during your stay.
Finally, you have access to free Wi-Fi throughout the hotel for your various devices. Newspapers are at your disposal to keep you informed of all the latest news. You even have access to an additional minibus transport from the station to the airport.
What are the rates for the Villa Cécile in Yvoire?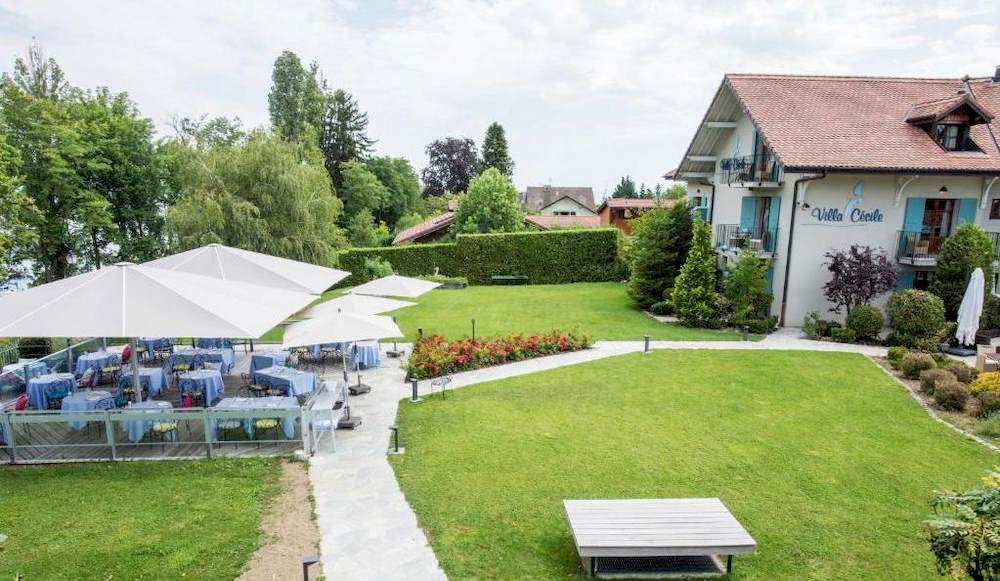 At the Villa Cécile Yvoire, you have access to classic rooms, owner's suites, family suites, poolside rooms, lake and garden rooms from as little as 198€. These rates usually include all hotel services.
However, other services such as access to the spa, catering, personalised garage and others are charged according to the privileges and choices you make. You are entitled to a breakfast included in the payment of your hotel room.
Conclusion
Villa Cécile Yvoire is a place filled with beautiful vibes and positivity. It is a true haven of peace for anyone who decides to spend one or more nights there. The rooms, the restaurant, the spa, the hairdressing workshop and the relaxing areas are all designed for your relaxation.
You will leave this idyllic place, which offers relatively low rates for the luxury and comfort it provides to its guests.
Hotels in Yvoire which may be of interest to you :
Accommodation in Yvoire and surroundings
Tell us how to improve the website: