The hotel Le Jules Verne welcomes you on the shores of Lake Geneva. Take advantage of your stay in the area to visit the Jardin des Cinq Sens and the village. If you are looking for adventure, this area has it all. Why not try activities such as hiking or cycling during your stay?
Hotel Le Jules Verne Yvoire : Presentation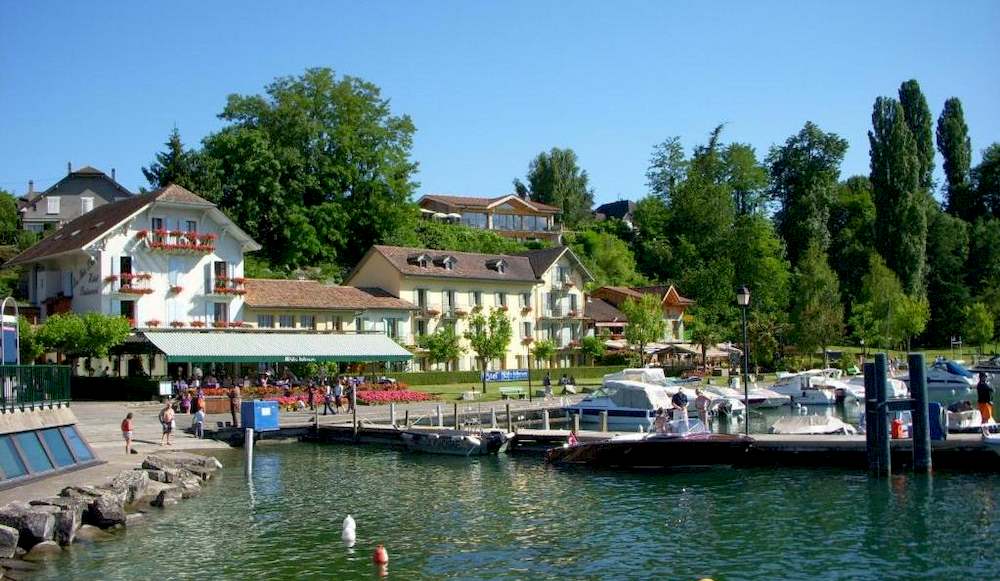 Located in the heart of one of the most beautiful villages in France, Le Jules Verne offers rooms with an exceptional view of Lake Geneva. With its chic hotel feel, it features 18 rooms with refined décor and quality service, most with a terrace. Indeed, the 17 rooms and suites (from 20 to 38 m²) are located on the waterfront and offer spectacular views of the largest lake in Western Europe.
Here you will find modern facilities for an unforgettable stay, including flat-screen TV, air conditioning, a minibar and a terrace or balcony. Guests can also relax in the hammam or jacuzzi outside the hotel.
The 4-star Jules Verne Yvoire's restaurant offers modern cuisine. You can enjoy dishes prepared with fresh local ingredients and products. The recipes will impress you with their authenticity.
Why go to the hotel Le Jules Verne?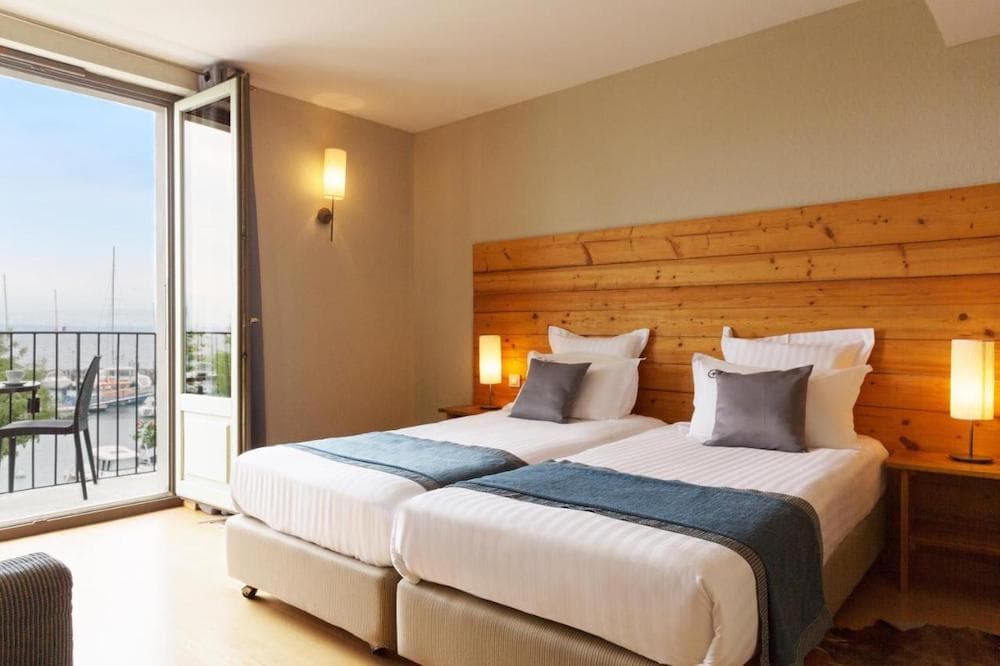 The 4-star hotel has a bar/lounge, a terrace and a garden, perfect for a relaxing stay. Guests really appreciate the hotel's ideal location and the breakfast.

Le Jules Verne Hotel is the ideal place to stay when visiting Yvoire. The Jules Verne's restaurant offers a variety of local dishes for lunch and dinner.
It also offers excursions for seminars and business meetings. Museums, castles, vineyards, gardens, cruises, water sports and cycling, the region offers leisure activities in all four seasons.
Excellent quality of catering
Gastronomic dishes selected by numerous gastronomic guides are offered in the restaurant and in a traditional log cabin. The Jules Verne Hotel is the ideal place for family and business events.
A wide range of services
When staying at Le Jules Verne Yvoire, you can be sure of a warm welcome in addition to the many services offered:
Baggage service
Pets allowed (20 € / day / pet)
Baby bed (30 € / day)
Valet service including parking (30 € / night)
Secure garage (10 € / night)
Laundry service (10 € / item)
What are the rates?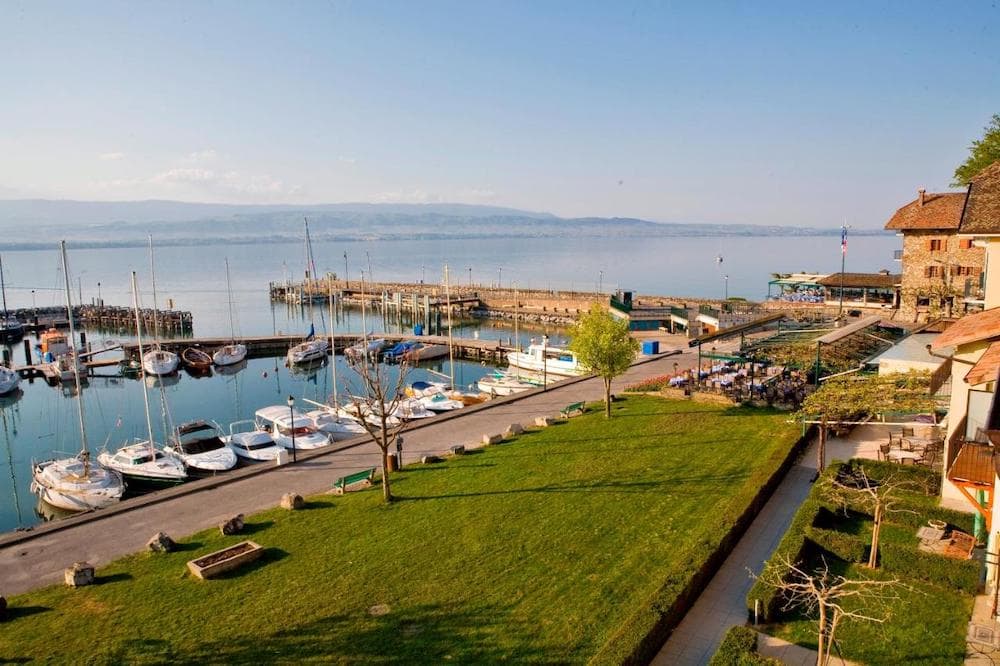 The cost of your stay depends on a number of factors, including the date and the type of room or services you require. However, here are some examples:
Tourist tax: Buffet breakfast is available at an additional cost of approximately EUR 20 for adults and EUR 12 for children. Baby cots are available at an additional cost of € 10 per stay
Extra beds are available at an additional cost of EUR 10 per night. Non-valet parking is available at an additional cost
The parking fee is EUR 30 per day
Final notice
The hotel has all the essentials to ensure a quality stay. The hotel also has vineyards that are hundreds of years old. The restaurant has a terrace overlooking the harbour and serves delicious food. Here you can enjoy not only the gastronomic delights of the restaurant, but also the panoramic view of Lake Geneva.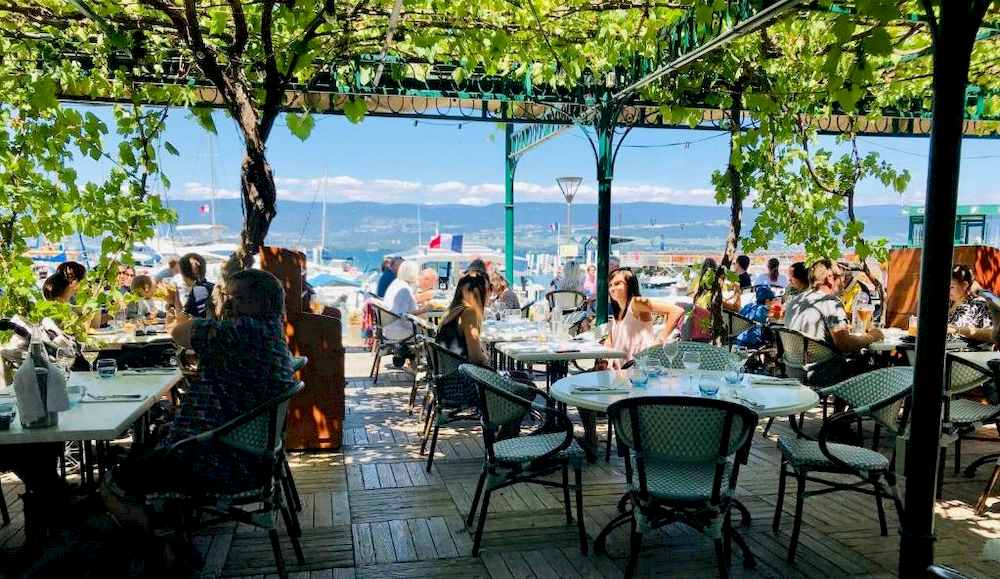 Other hotels located in Yvoire :
Book a hotel around Lake Geneva
Tell us how to improve the website: