Visiting Yvoire is a unique experience in Haute-Savoie. In addition to the peace and quiet of the medieval village, you can enjoy all the activities offered by Lake Geneva. And for your stay in the region, whether you come alone, as a couple, with friends or with your family, you can be sure that you will find a hotel in Yvoire that is perfect for your taste.
It is very likely that you will find complete satisfaction by staying at the 3 star hotel Le Pré de la Cure.
Here are the essentials to remember about this splendid 3 star hotel in Yvoire.
Presentation of the hotel Le Pré de la Cure
The Pré de la Cure hotel is a 3 star hotel that fully deserves its excellent reputation. It is located at the entrance to Yvoire which allows it to have a very large plot of land and more space than other hotels in Yvoire.

The hotel has very large gardens and terraces, allowing its guests to enjoy the fresh air and the view of the village and Lake Geneva.
The hotel offers restaurant services both indoors and on the terrace in front of its magnificent façade. Le Pré de la Cure is just a few metres from the medieval village with its narrow streets offering a real old-world charm.
Why these 3 stars?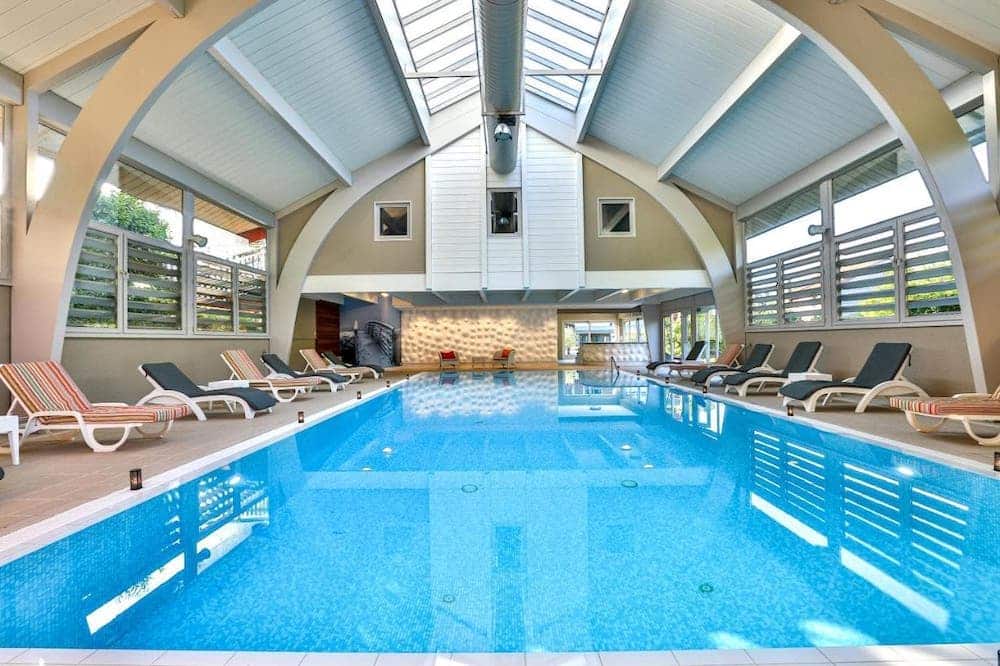 The hotel Le Pré de la Cure in Yvoire offers rooms for all needs and tastes. The rooms are very comfortable with private toilets, a bathroom with or without a bathtub, mini-bar, TV, wifi, telephone and a safe. The service is of a very high standard with attentive and welcoming staff, everything you would expect from a 3 star hotel.
It is also possible to bring your pet and your car as the hotel allows pets and has a closed garage. If you want your child to sleep in the same room as you, an extra bed is available.
Pré de la Cure in Yvoire: swimming pool and jacuzzi
To make the most of your stay, note that this hotel offers its guests an indoor swimming pool and a jacuzzi. As you can see from the photo above, the pool is a large size for a hotel.

Those who do not wish to rent a closed garage can park their car for free in the hotel's private car park.
What are the rates for the Pré de la Cure in Yvoire?
The price depends on the number of people occupying the rooms, the type of room chosen and whether you stay on full or half board. Two people who choose a lake side room will pay 145 euros for full board and 120 euros for half board. A night in a garden room costs 125 euros for full board and 110 euros for half board.
You can check the rates here, as they are subject to change.
If you come as a threesome and want to sleep in the same room, the price is 145 euros for full board or 100 euros per person for half board. This is usually what families do. Finally, if there are three of you and you stay in a room with separate rooms, you will have to pay 160 euros for full board and 105 euros per person for half board.
If you come alone, a night in a single room without balcony will cost you 85 euros. Amélie, Olivier and their team have done everything to ensure that this hotel offers quality services and that it has a modern decoration in the medieval environment of Yvoire.
Opinion about the hotel le Pré de la Cure
You can really enjoy your visit to Yvoire by staying at the Pré de la Cure. This hotel has everything you need to make short, medium or long stays very pleasant. For your information, the hotel is also easily accessible for disabled guests.
When it comes to staying in Yvoire, there is no shortage of hotels. However, by staying at the Pré de la Cure, you will enjoy your stay with very comfortable rooms, attentive staff and a beautiful view in addition to the comfortable facilities.
Don't forget to book your stay to make sure you get a room as the hotel is in high demand.
Hotels in Yvoire that might be of interest to you :
Hotels in and around Yvoire
Tell us how to improve the website: